01
ON OUR WAY TO ISRAEL!
Wednesday, June 22, 2022
02
THE BEGINNING OF A SPECIAL JOURNEY
Thursday, June 23, 2022
03
TEL AVIV: THE FIRST HEBREW CITY
Friday, June 24, 2022
04
SHABBAT IN TEL AVIV
Saturday, June 25, 2022
05
COMMUNITIES NOW & THEN IN THE NORTH
Sunday, June 26, 2022
06
SERENITY & SECURITY IN THE GOLAN
Monday, June 27, 2022
07
FROM THE HILLS OF THE GALILEE TO THE HILLS OF JERUSALEM
Tuesday, June 28, 2022
08
THHE LAYERS OF JERUSALEM
Wednesday, June 29, 2022
09
I'M DIGGIN' ISRAEL
Thursday, June 30, 2022
10
MEMORY & RENEWAL
Friday, July 1, 2022
11
INTO THE DESERT: MASADA & THE DEAD SEA
Saturday, July 2, 2022
12
UNTIL WE MEET AGAIN
Sunday, July 3, 2022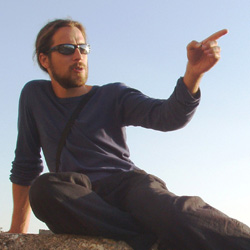 Koren Eisner
MORE INFORMATION ABOUT YOUR EXPERT TOUR EDUCATOR
Koren Eisner was born in South Africa to Israeli parents and the family returned to Israel when he was still a baby. He grew up in Jerusalem, and after completing his military service lived for a while in Kibbutz Ze'elim in the Negev and returned to Jerusalem to study and raise a family.
As he was guiding and managing throughout his teenage years, Koren's career choice was pretty easy to make. He was on the student council in high school, guiding youth during his military service, and a teacher at the Yad Vashem International School. He was also involved in research of Dead Sea plants and studied History & Humanities at Hebrew University. All of these naturally combined with guiding, and in 2005 Koren became a licensed tour guide.
Koren has been part of the Da'at family ever since, guiding federations, interfaith groups, families, adult tours, Christian groups, journalists, and hiking tours. His favorite place to guide is his childhood home – Jerusalem. Throughout his guiding, Koren incorporates his knowledge of archaeology and history and aspires to tell the stories of the land with both integrity and the passion they deserve, challenging his travelers to ask the tough questions, analyzing narratives while appreciating the beauty and truth of the story.
A few years ago, Koren and his family moved to Kibbutz Hukuk in the Galilee by Lake Kinneret, a young community dedicated to improving society through education and adapting Kibbutz life to the 21st century. When Koren is not guiding, he dedicates as much time as possible to his family and community life.
LAND ONLY
PRICE PER PERSON SHARING A DOUBLE ROOM
$4525
PRICE PER CHILD SHARING AS A 3RD
$3745
Reserve Now
Notes:
Single supplement: +$1,410. If more people sign up for the trip – the price will go down! Encourage your friends to join us!
Included
Excluded
The small print
Included
9 nights' accommodations, including portage at the hotels.
Guaranteed late check-out on day of departure.
10 days of touring with a tour educator (guide).
Daily breakfast, 1 lunch and 6 dinners.
10 days of touring in a luxury, air-conditioned bus.
Mineral water during all touring days.
1 group transfer and assistance from/to the airport.
All site entrance fees and program fees as per your final program.
Excluded
Flights to and from Israel.

Evening transportation when dinner is not included.

Amendments to the program: In the event that any sites, programs or meals etc are added to the program, an additional fee may be required.

Personal extras: Items of personal nature such as laundry, wines, mineral water, beverages, coffee, tea, food other than the table d'hotel menu, passport and visa fees, insurance, and foreign port taxes, unless otherwise specified.

US and foreign airport taxes, Q fuel surcharge and border taxes when applicable.

Value Added Tax is currently not applicable to tourists visiting Israel. Should the law change, you will be notified accordingly, and VAT will be added to your final invoice.

Gratuities: We recommend the following guidelines for tipping (amounts in US dollars):

Group of 20 participants or more: Expert Educator: $8 | Driver: $4 - per participant per day.
The small print
Rates: Rates are per person based on double occupancy and a minimum of

20 full-paying participants. Should the number of participants drop below the minimum

listed, the cost of the trip will be adjusted to reflect the additional expense of operating the

program.
Currency: Tour prices are per person in U.S. dollars. All hotel accommodations, motor coach

transportation, special dinners, sightseeing, admissions, luggage handling and the services

of local guides, drivers, and the tour guide/educator are included.
Payment policy: Da'at Educational Expeditions reserves the right to adjust its terms of

payment, including cancelation policies and initial deposits. Notification of any changes will

be made explicitly to the participants where relevant.

An initial deposit of $500 per person, non-refundable, non-transferable is due at 

the time of reservation unless another amount is indicated.




Final payment is due 90 days before the scheduled trip begins, or as specified in

your invoice.
Cancelation policy: All cancelations need to be made in writing. The cancelation fee

depends on the date when we receive written notification of your request to

cancel your booking. Please note that the deposit is non-refundable.
Cancelations made:

90 or more days prior to departure incur the loss of the deposit.

89 to 46 days prior to departure incur the loss of 50% of the full trip 

cost.

45 days or less prior to the departure incur the loss of 100% of the full

trip cost.



Cancelation fees may also include:

Hotel or supplier cancelation fees.
For trips in Israel only: The cost of the PEACE OF MIND TRAVEL PROTECTION PROGRAM (POM), if this was purchased.
Group airfare penalty fee.
Travel insurance: We strongly recommend that you purchase your own travel insurance.

Please discuss land, air, and health insurance options with your insurance provider or contact

Travel Insured at 1-800-344-6226, ext. 257. Some insurance programs provide more

comprehensive coverage when the policy is purchased in close proximity to the initial trip

deposit. We, therefore, recommend that you secure insurance within 14 days of your initial

deposit payment date.
Room categories are based on standard Run of House unless otherwise noted.
Our standard is to provide the best available hotels while considering value. Although the level of accommodations may differ slightly from hotel to hotel, we are committed to your comfort.
We reserve the right to make substitutions with hotels of equal standard. No refunds will be issued for the differences between hotel prices.
The standard hotel room in Israel is generally smaller than in the US, comfortably accommodating two people in either one queen-size bed or two single beds. Some hotels offer triple rooms consisting of standard twin beds plus a sofa/folding bed or cot for the third person.
Special requests such as room selections, bed types, and smoking preferences are subject to availability and are strictly at the discretion of the hotel's management on a run-of-house basis.
All hotel rates are non-negotiable and are based on the agreements made between Dalat Educational Expeditions and its suppliers.
Hotel check-in time is generally not before 3:00 p.m. and check-out time is prior to noon. If you are taking a late-night flight, make sure to organize adequate arrangements for accommodation until you are ready to leave for the airport. If a day room is included in the itinerary, check-out time will usually be at 6:00 p.m.