01
DEPARTURE
Sunday, May 15, 2022
Group Domestic Flight
- Depart Cleveland on United Airlines.
- Arrive in Newark for your connecting flight.
Group International Flight
- Depart Newark on United Airlines Flight # 090 (pending confirmation).
02
THE START OF A SPECIAL JOURNEY
Monday, May 16, 2022
03
OLD & NEW TESTAMENT ON THE ROAD NORTH
Tuesday, May 17, 2022
04
IN HIS FOOTSTEPS IN THE GALILEE
Wednesday, May 18, 2022
05
THEN AND NOW: BIBLICAL SOURCES AND THE GOLAN HEIGHTS
Thursday, May 19, 2022
06
FROM THE HILLS OF THE NORTH TO THE HILLS OF JERUSALEM / Sabbath eve
Friday, May 20, 2022
07
FROM DESTRUCTION TO NEW HOPE / Sabbath
Saturday, May 21, 2022
08
DIGGING UP THE PAST
Sunday, May 22, 2022
09
HEAVENLY & EARTHLY JERUSALEM
Monday, May 23, 2022
10
INTO THE DESERT
Tuesday, May 24, 2022
11
MASADA – AND FAREWELLS
Wednesday, May 25, 2022
12
RETURN TO THE USA
Thursday, May 26, 2022
Extension to Eilat and Petra
01
TO EILAT
Wednesday, May 25, 2022
Depart Masada for the long drive south, through the Arava Valley, toward the Red Sea.
Lunch (not included in package), en route.
Visit the impressive Timna Park with its audio-visual program, ancient copper mines, and unique geological formations.
Check into the hotel.
Dinner (not included in package).
02
ROCKING THE RED SEA | PETRA: THE JEWEL IN THE JORDANIAN CROWN
Thursday, May 26, 2022
03
ADVENTURE IN THE NEGEV
Friday, May 27, 2022
04
HOME AGAIN
Saturday, May 28, 2022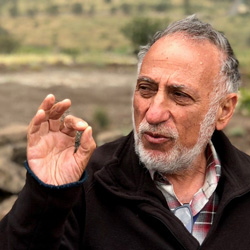 Mike Rogoff
MORE INFORMATION ABOUT YOUR EXPERT TOUR EDUCATOR
Mike Rogoff was born, raised, and educated in Cape Town, South Africa, moved to Israel in 1970, and spent a brief period studying Hebrew and milking cows on a Kibbutz. He completed a teaching diploma at Tel Aviv University, but his joyful experience in informal education persuaded him that the entire Land of Israel was a far more fascinating classroom than any four walls could ever be.

Mike became a licensed tour guide in 1974, and after more than four decades in his calling, he has lost none of his passion for the job. In 1983, the Ministry of Tourism honored Mike with the "Guide of the Year" award. He has been sent to the USA and the UK many times by Israel's Ministry of Tourism to lecture on tourism to Israel and promote it.

When he's not guiding, Mike enjoys writing and translating, and has been a senior writer for Fodor's Israel since 1984.

Mike is married to Jill, a professional singer, and they have two adult daughters and three young grandsons, all currently living in Jerusalem.
LAND ONLY
price per person sharing a double room
$3017
price per person in a single room
$3726
Reserve Now
Notes:
Eilat extension: $816 per person sharing a double room. Single supplement: +$205. Prices are based on a minimum of 20 fully paying participants.
Included
Excluded
The small print
Airfare
Included
Main Trip:
9 nights' accommodations.
10 days of touring with a tour educator (guide).
Daily breakfast and dinner, and 1 lunch.
10 days of touring in a luxury, air-conditioned bus.
Mineral water during all touring days.
1 group transfer and assistance from/to the airport.
All site entrance fees and program fees as per your final program.
Eilat Extension (supplemental cost):
2 nights' accommodations.
3 days of touring with a tour educator (guide).
Daily breakfast and 1 dinner.
3 days of touring in a luxury, air-conditioned bus.
1 group transfer and assistance to the airport.
All site entrance fees and program fees as per your final program.
Excluded
Day trip to Petra: $659 per person based on a minimum of 10 fully paying participants.

Evening transportation when dinner is not included.

Amendments to the program: In the event that any sites, programs or meals etc are added to the program, an additional fee may be required.

Personal extras: Items of personal nature such as laundry, wines, mineral water, beverages, coffee, tea, food other than the table d'hotel menu, passport and visa fees, insurance, and foreign port taxes, unless otherwise specified.

US and foreign airport taxes, Q fuel surcharge and border taxes when applicable.



Value Added Tax is currently not applicable to tourists visiting Israel. Should the law change, you will be notified accordingly, and VAT will be added to your final invoice.
Gratuities: We recommend the following guidelines for tipping (amounts in US dollars):
Group of 20 participants or more: Expert Educator: $8 | Driver: $4 - per participant per day
The small print
Rates: Rates are per person based on double occupancy and a minimum of

30 full-paying participants. Should the number of participants drop below the minimum

listed, the cost of the trip will be adjusted to reflect the additional expense of operating the

program.
Currency: Tour prices are per person in U.S. dollars. All hotel accommodations, motor coach

transportation, special dinners, sightseeing, admissions, luggage handling and the services

of local guides, drivers, and the tour guide/educator are included.
Payment policy: Da'at Educational Expeditions reserves the right to adjust its terms of

payment, including cancelation policies and initial deposits. Notification of any changes will

be made explicitly to the participants where relevant.

An initial deposit of $500 per person, non-refundable, non-transferable is due at 

the time of reservation unless another amount is indicated.




Final payment is due 90 days before the scheduled trip begins, or as specified in

your invoice.
Cancelation policy: All cancelations need to be made in writing. The cancelation fee

depends on the date when we receive written notification of your request to

cancel your booking. Please note that the deposit is non-refundable.
Cancelations made:

90 or more days prior to departure incur the loss of the deposit.

89 to 46 days prior to departure incur the loss of 50% of the full trip 

cost.

45 days or less prior to the departure incur the loss of 100% of the full trip cost.



Cancelation fees may also include:

Hotel or supplier cancelation fees.
For trips in Israel only: The cost of the PEACE OF MIND TRAVEL PROTECTION PROGRAM (POM), if this was purchased.
Group airfare penalty fee.
Travel insurance: We strongly recommend that you purchase your own travel insurance.

Please discuss land, air, and health insurance options with your insurance provider or contact

Travel Insured at 1-800-344-6226, ext. 257. Some insurance programs provide more

comprehensive coverage when the policy is purchased in close proximity to the initial trip

deposit. We, therefore, recommend that you secure insurance within 14 days of your initial

deposit payment date.
Room categories are based on standard Run of House unless otherwise noted.
Our standard is to provide the best available hotels while considering value. Although the level of accommodations may differ slightly from hotel to hotel, we are committed to your comfort.
We reserve the right to make substitutions with hotels of equal standard. No refunds will be issued for the differences between hotel prices.
The standard hotel room in Israel is generally smaller than in the US, comfortably accommodating two people in either one queen-size bed or two single beds. Some hotels offer triple rooms consisting of standard twin beds plus a sofa/folding bed or cot for the third person.
Special requests such as room selections, bed types, and smoking preferences are subject to availability and are strictly at the discretion of the hotel's management on a run-of-house basis.
All hotel rates are non-negotiable and are based on the agreements made between Dalat Educational Expeditions and its suppliers.
Hotel check-in time is generally not before 3:00 p.m. and check-out time is prior to noon. If you are taking a late-night flight, make sure to organize adequate arrangements for accommodation until you are ready to leave for the airport. If a day room is included in the itinerary, check-out time will usually be at 6:00 p.m.
Airfare
Airfare may be purchased from us for travel originating in the United States. Once issued,

tickets are non-refundable.

Flight rates are estimated at $1,450 and airport taxes & fuel surcharges are included. The

airfare is subject to change at any time by the airline. Airport taxes & fuel surcharges are not

guaranteed unless the group air tickets have been issued approximately 35 days prior to

departure.

All air rates and schedules are subject to change prior to ticketing. Please note the flights

listed above are not confirmed at this juncture; airfare is subject to the carrier's

confirmation and subject to change. Airline utilization and deposit deadlines will be advised

upon confirmation of space.

Airport Taxes & Fuel Surcharges are not guaranteed unless the group air tickets have been

issued. Group air tickets are issued approximately 35 days prior to departure. Group air

tickets are only issued upon receipt of full payment from all of the trip participants.

Group rates require a minimum of 10 passengers.

Airfare to the tour departure point and from the tour ending point is not included.

We will not be responsible for penalties incurred for tickets, international or domestic, not issued by us due to schedule and/or flight changes. Airlines reserve the right to demand immediate issuance of tickets whenever they determine that specific flights are heavily booked even when normal ticketing rules do not require tickets to be issued until a later date. In this instance, we will require immediate and full payment of the airfare and airport taxes and fees as itemized on the invoice. This situation overrides invoice terms and conditions and payment due dates. If full payment is not received, seats will be canceled by

the airline and may not be available to be rebooked on the same flights or at the same

airfare. Any replacement air arrangements and airfare will be the sole responsibility of the

passenger. We suggest you contact your travel agent or the carrier several weeks prior to

departure for seat assignments. Passengers are responsible to reconfirm their flights 72

hours prior to departure for all flights.




About group flight
Seating assignments cannot be guaranteed with group flights.
Group flights are non-upgradable through points or a supplement payment.
Upgradable and guaranteed seating assignments can be secured by booking an independent
ticket on the same flight as the group. This can be done by the individual or by calling our
Customer Service Center at 1-888-811-2812.